Cointreau and Mount Gay Partner with ecoSPIRITS to Launch UK Exclusive Pilot Programme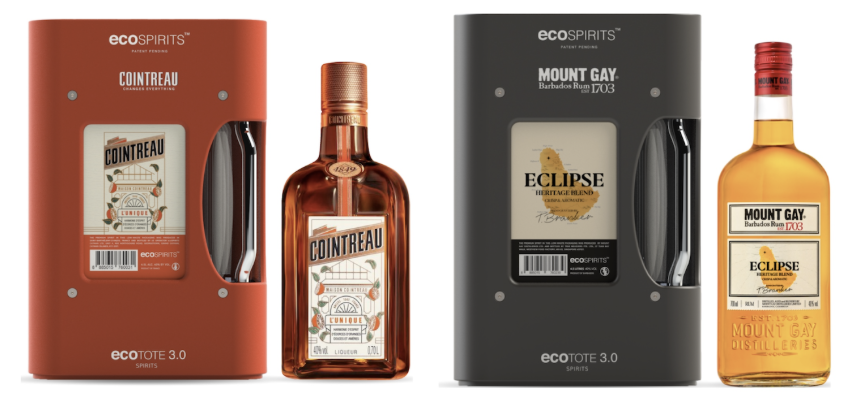 2 December 2022
Rémy Cointreau and ecoSPIRITS officially announce the joint launch of closed loop service in the United Kingdom. As the first global customer to launch with ecoSPIRITS in the UK, the partnership will see co-branded editions of ecoSPIRITS' award-winning circular packaging technology used in venues across the on-trade, including bars, restaurants and hotels. The initial pilot programme will include two iconic Rémy Cointreau brands, Mount Gay Eclipse and Cointreau orange liqueur available in co-branded ecoTOTETMs and SmartPourTMs.The partnership marks Rémy Cointreau brands as the first global customer to launch with ecoSPIRITS in the UK.
The partnership comes as a strategic move amid Rémy Cointreau's Sustainable Exception roadmap, by reducing the amount of single use glass bottles. Working alongside ecoSPIRITS, the partnership will ensure a 95% reduction in single use packaging waste for the scope of this pilot programme and will help the on-trade reduce their own waste, with 30-50% reduction in back-of-house storage and a 95% reduction in daily glass and cardboard waste. As part of the initiative, on trade partners will have access to the co-branded SmartPour 2.0S technology, which are equipped with ecoSPIRITS' patent-pending Verified Sustainable Refill™ feature that uses a SaaS NFC-based refill bottle authentication.
"I'm thrilled that Rémy Cointreau can pilot the ecoSPIRITS programme in the UK, and to see Cointreau as the first global liqueur to join the ecoSPIRITS system," noted Augustin Depardon, Managing Director of Rémy Cointreau UK. "Mount Gay Eclipse and Cointreau are incredibly important brands for our on-trade partners in the UK, and this is a significant step in helping them reduce their overall waste. Equally, it's vital for us at Rémy Cointreau to look at every pillar of our sustainable practices to see where we can do better, and this is just the tip of the iceberg."
"As a world leader in the production of exceptional spirits, we are now doing everything we can to assume the role that we must play at Rémy Cointreau," noted Elisabeth Tona, CEO Liqueurs & Spirits, Rémy Cointreau. "With the ambitious goal of reducing our Greenhouse Gas emissions (GHG) by 50% per bottle by 2030, this collaboration with ecoSPIRITS is another step in the right direction to reduce our single-use glass bottles and ensure we move towards carbon neutrality by 2050. This program is part of our CSR roadmap built around Terroir, People & Time, where climate change, responsible consumption, and sustainable production (products and transport) are at the heart of it."
Paul Gabie, CEO of ecoSPIRITS, said: "Rémy Cointreau is an industry-leading drinks company, and we are delighted to welcome them as our first global brand partner in the United Kingdom. It is no small milestone when Cointreau and Mount Gay, each an iconic brand in its own right, join thecircular economy. Cointreau will also be the first global liqueur brand to be available in our award-winning ecoTOTE format. The transition to circular is gathering momentum in the spirits industry. We applaud the entire Rémy Cointreau team for their commitment to building a sustainable future together."
About ecoSPIRITS
ecoSPIRITS is a circular economy technology company that has developed the world's first low carbon, low waste distribution technology for premium spirits and wine. Our patent-pending closed loop system nearly eliminates all packaging waste in the supply chain. By dramatically reducing packaging and transport, ecoSPIRITS provides both a powerful cost advantage and a transformative carbon footprint reduction. Founded in Singapore in 2018, the ecoSPIRITS technology is now available in more than 15 countries and 30 cities across Asia Pacific, Europe and the Americas. More than 1,000 leading bars, restaurants, hotels and retailers have adopted the technology, including Michelin-starred restaurants, World's 50 Best and Asia's 50 Best bars and iconic hotels. ecoSPIRITS is now rapidly building a global network of closed loop service, with coverage to grow to 25 countries worldwide by early 2023. Together with our brand partners, importers, distributors, wholesalers, venues, and retailers, we are already making a difference. Each year, ecoSPIRITS and our partners are eliminating hundreds of tons of single use glass waste, planting tens of thousands of trees, and inspiring others to change.