Bruichladdich Yellow Submarine 1991 WMD III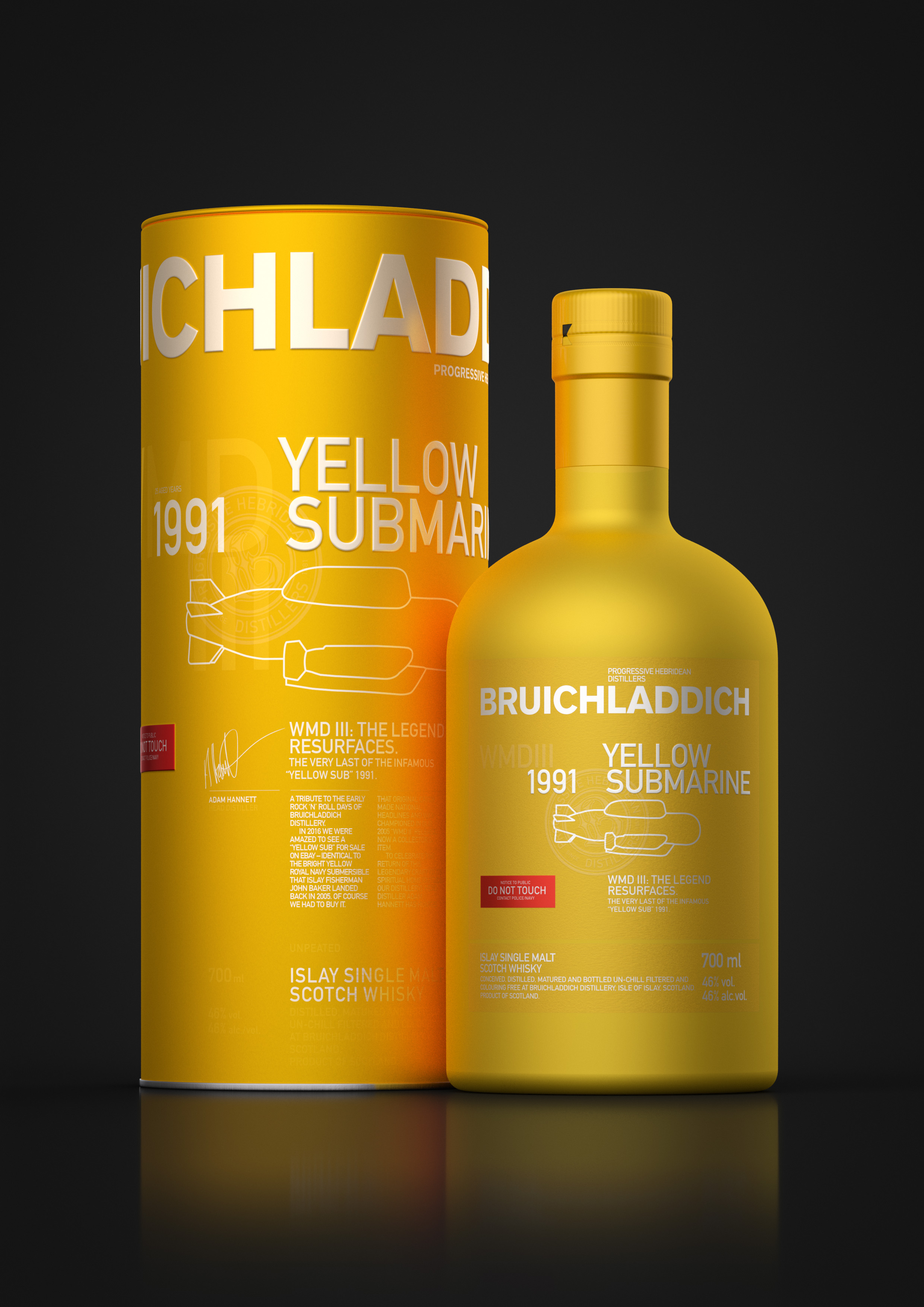 7 September 2018
Bruichladdich releases the very last batch of its infamous Yellow Submarine 1991 bottling in "WMD III": a limited-edition, online exclusive—and humorous nod to a "whisky of mass distinction."
The story of Bruichladdich's original WMD (whisky of mass distinction) tickles our team to this day.
The legend of the Yellow Submarine begins with a letter from the Defence Threat Reduction Agency, inquiring why Bruichladdich was shipping distilling equipment that could be adapted for sinister purposes. The DTRA claimed that some of the processes our team used to collect abandoned distillery equipment scraps (used to equip our distillery during its struggling early days) could be "tweaked" to produce WMD (weapons of mass destruction).
Never one to pass on a humorous PR spin, Bruichladdich's then MD Mark Reynier embellished events, capturing media attention with the release of a special "whisky of mass distinction" bottling, called "WMD."
Ironically, shortly afterwards, an Islay fisherman reeled in a yellow submarine vessel, labeled "Ministry of Defence" with a telephone number. Our Bruichladdich team released a special bottling—"WMD II: The Yellow Submarine"—in honor of the lost Royal Navy sub. A bottle was offered to the captain as a goodwill gesture.
You'll even find a Yellow Submarine, as a reminder of the tale, outside our distillery to this day. Find the full story on Bruichladdich's website.  
To celebrate the return of the Yellow Submarine, Head Distiller Adam Hannett hunted out the last parcel of that original 1991 Yellow Submarine spirit, now at a sublime 25 years old, and presented here as "WMD III," a nod to those wild early days of a renegade distillery: a spirit that lives on today on the Rhinns of Islay.
The 411
Laddie Shop online exclusive, one per person
1,991 bottles (700ml)
46% alc. / vol.
£300 including VAT
25 aged years
Component 1: 15 years refill sherry maturation before a final 10 years Spanish tempranillo cask maturation (approx. 7 parts)
Component 2: 25 years refill bourbon maturation (approx. 2 parts)