Xavier Carbonel
Testimonial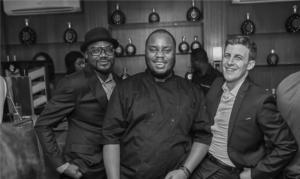 04.03.2019
How did you find the Rémy Cointreau Group?
Rémy Cointreau was looking for a Country Manager who already knew Nigeria and who had strong local experience. I was Head of Sales in an e-commerce Group in Nigeria, so I had the ideal profile.
What does your Country Manager role in Nigeria entail?
My role is to assure that our Group brands grow in this emerging market with strong potential. This implicates managing budgets and working with local distributors to execute an annual strategy, in terms of distribution, marketing and local partnerships.
Your background?
In theory, I have a double degree in engineering in agricultural economics and a PhD in veterinary studies. In practice, I have an entrepreneurial profile. I fell into entrepreneurial roles when I left school. I was linked to numerous retail/franchise groups. And then, I started a sales start-up that conducted statistics for stores in France.
Why did you choose to work in Nigeria?
I was looking for my next adventure: a developing country with strong economic growth and a large population that would become the next China.
Most surprising part about working in Nigeria?
The Nigerians without a doubt! Extremely ambitious hard workers, they are living proof that the stereotypes about Africa are false. I don't think I've met a Nigerian who doesn't have a side business: "a side hustle!"
Attractive aspects of the Rémy Cointreau Group?
A family Group with a vision that's long-term and modern. I particularly appreciate the strategy that underlines the premium aspects of our brands and that places LOUIS XIII at the forefront of our portfolio.
Your hobbies?
Tennis and foreign languages: German, English, Spanish.
Connection with the team in Africa?
The team in Africa is composed of experienced workers who fully understand the continent. It's really interesting to come together and share our challenges and ideas.
What's next for our market in Africa?
Africa is the last emerging continent. It's a giant country with a young population that is discovering our brands. It's full of promise! Nigeria is a perfect example: Today, a country of 200 million inhabitants, it will reach 350 million in 2050 … the size of Europe!
Your favorite Rémy Cointreau spirits?
That's the other good part about working for us: There isn't one bad brand in our portfolio! If I had to choose, I would pick Octomore, our Scottish whisky that is the most heavily peated in the world, and of which memories of tasting this spirit on a farm on Islay are irreplaceable!
Since the testimonial, Xavier has been appointed Area Manager West and North Africa.